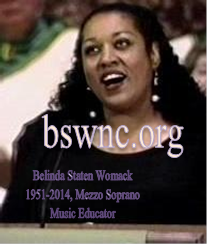 Reserve Your Seats for the Concert Now!

Link to Eventbrite here: COMMUNITY MUSIC HERITAGE EVENT

September 23rd at 3pm
1922 South Dr. MLK Jr. Drive
Winston-Salem, NC 27107
(336) 793-2011
Link to Flyer here: Community Music Heritage Event


Promote music literacy by supporting the Belinda S. Womack memorial scholarship. Once fully endowed, the scholarship fund will provide tuition assistance, materials, supplies, and pre-professional development opportunities for incoming and existing music majors with an emphasis on music education at WSSU and then interested collegiate music programs nationwide.

Historical Note: The late classically trained Mezzo Soprano and certified Music Educator, Belinda Staten Womack retired as a music teacher from the Washington, DC public schools, prior to her untimely death from complications of multiple sclerosis. She was a 1973 graduate of WSSU and a native of Winston-Salem, NC USA.


Technical Note: The audio tracks presented are live solo performances that were transferred from analog broadband VHS to digital format. Ambient sounds are heard unlike controlled studio recording. State of the art equipment, SSL duality technique and professional software were used to restore the sound while maintaining the original timbre of her voice.